Pittsburgh Pirates Mural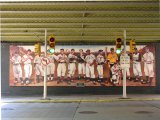 As summer starts to wind down and we begin to get bored of the Olympics (hey, not our fault - NBC's coverage sucked [again]), our thoughts return to baseball. How are those Pirates doing anyway? Best not to ask. Let's instead talk about the Pirates' glorious history. At the intersection of 2nd Avenue and Ross St. downtown, under the bridge (Boulevard of the Allies is passing above), there's a mural of 14 of the most famous Pirates.
Getting a reasonable picture of the whole mural seems to require standing in the middle of the road. But then the traffic lights block some of the mural. Here are the missing pieces:
Who are the baseball players? I don't follow baseball and I haven't lived in Pittsburgh all that long, so I don't know. (As you can see from the picture, there's a plaque, but all it explains is that the mural is a gift from the Art Institute to the city.) So I've started asking around. Here's what I've got so far, from right to left:
Honus Wagner
Roberto Clemente
Bill Mazeroski
Unknown (kneeling)
Willie Stargell
9 more unknowns
A big shout out to
Stewart
, who came up with these first 4. Do you know more? Leave me a comment!
By the way, as Stewart also observed, the clock and scoreboard in the left side of the mural are from Forbes Field (long demolished, but a picture survives).
As always, click on the pics for larger versions.