Lawrenceville alive!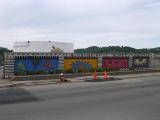 On Butler St. in Pittsburgh's Lawrenceville neighborhood, there's a mural that states, definitively (note the double exclamation points), that Lawrenceville is alive. And strangely enough, the mural is correct. Lawrenceville, after years of depression after the steel mills left, has become the new happening spot in town (at least if you're a hipster). But where hipsters tread, normal people soon follow (if only for the ironic t-shirts and art galleries), and slowly but surely the shops along the piece of Butler St. near the Strip District are being renovated.
On the stretch of Butler where this mural is found, there's a car wash, a field of oil tanks, and a bunch of depressed-looking houses (it must be hard to keep the house looking good when you live across the street from a bunch of soul-sucking oil tanks). The hard part for me is figuring out whether the people who painted the mural were trying to inspire the crappy part of Lawrenceville to improve itself, or they were saying to people passing through "sure it's bad here, but another mile down the road the joint is hopping!"
(Click on the image for a larger version of the picture.)