Mural in Half Moon Bay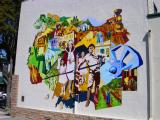 On the side of the building at 421 Main St. in Half Moon Bay, California, there's a mural that "pays tribute to the traditions, hard work, and spirit of the men and women who founded the Coastside." Or at least, that's what the plaque next to the mural says. It's interesting how the artists pieced together the component images collage-style. And who could argue with a picture that puts the church on one side, the jail on the other, and the people in between?
By the way, the mural was painted by Adriana Gallego and Claudio Dirochea. You can click on the image for a larger version, but I have to say, there's a much better version of the picture online, here. I think the photographer for that picture used a ladder to escape horrible perspective skew (tm).