September 11 Memorial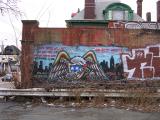 On the side of Duke's bar, in Bloomfield on S. Millvale Ave., there's a small mural commemorating September 11. I don't know when the dead branches and graffiti were added. Perhaps some time after the adjoining gas station shut. My girlfriend points out that this could be a metaphor for how the country's patriotism has faded since the initial surge after 9/11.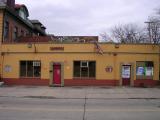 Here's a picture of the front of the building. Note the sign promising "no crap on tap".
Click on the images for larger versions.